Published: July 2019 (5 Min Read) – all data as at the 30th June 2019
In the quarter, the portfolio rose 15.18%, against the benchmark which rose by 0.20%. In April, Strix, the kettle control global market leader, was introduced using the proceeds from the Tax Systems takeover in the previous quarter. Cash takeover offers were made for SCISYS and Premier Technical Services Group. We expect these deals to complete during the course of the coming quarter, as the deals are endorsed by both sets of management teams who also own substantive stakes in the businesses.
SCISYS and Premier Technical Services are being bought by CGI and Macquarie respectively, who spotted the valuation differential that exists in these companies with market capitalisations below £150m. We can often benefit from this illiquidity discount by virtue of our AIM Portfolio Service being smaller than some of our well-known peers. Gooch & Housego and Cerillion announced disappointing trading updates.
Gooch & Housego has been impacted by the combination of the US/China trade war and a slowdown in orders from the semi-conductor industry to whom it supplies lasers for manufacturing equipment. We are comfortable retaining our position. Cerillion's interim results did not meet expectations, exposing a lack of trading visibility.
We reduced our holding in Cerillion and used the proceeds to increase our holding in Accesso Technology. Over the course of the next quarter, we will be conducting due diligence on a number of companies as we replace SCISYS and Premier Technical Services, which combined constitute 14% of the portfolio.
Click below to view the full quarterly factsheet: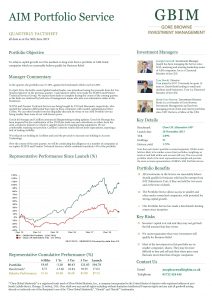 IMPORTANT INFORMATION
This document is only for investment professionals, and for those clients of GBIM who have signed a Client Information and Suitability Questionnaire selecting an AIM Portfolio. Tax treatment depends on individual circumstances and may be subject to change in the future.
GBIM Limited points out that past performance is not a guide to future performance and that the value of investments, and the income derived from them, may fall as well as rise and investors may not get back the full amount originally invested. The information and opinions contained in this document are for background purposes only, are for the purpose of discussion, are not for public dissemination and do not purport to be full or complete, or based on an individual investor's requirements. This document does not constitute or form part of an offer to issue or sell, or any solicitation of any offer to subscribe to or purchase, any shares or any other interests nor shall it, or the fact of its distribution, form the basis of or to be relied upon in connection with any contract thereof. The information provided does not constitute investment advice or recommendations. While we have taken all reasonable care to ensure that the information contained within this document is accurate, current, and complies with relevant UK legislation and regulations at the date of issue, errors and omissions may occur due to circumstances beyond our control. We reserve the right to change the content, presentation, performance, facilities and availability of all or part at our sole discretion and without prior notice. The directors and employees of GBIM Limited, and members of their families, may have positions in the securities mentioned. Any information you provide will be used by GBIM Limited for administrative and regulatory purposes within the terms of our Privacy Policy and the Data Protection Act 2018. For more information on our Privacy Policy please visit our website at www.gbim.co.uk/privacy-policy.