Published: September 2019 (5 Min Read)
This weekend I went with a group of cycling friends, men and women, to Arnhem. Our number included a retired general, the brother of a previous commander of land forces, some keen amateur historians, and a number of regular participants in rides which have raised money for Help for Heroes. It was organised by a Dutch couple who live in Hampshire, and who were very keen for us to witness the continuing gratitude of the Dutch people for the sacrifices made in the efforts to liberate Holland and Europe seventy-five years ago.
We were also accompanied for a day and a half by a retired Dutch colonel, who is a military historian and well-armed with stories and strategic understanding of the events of 1944.
On Saturday there were flyovers and parachute drops in front of Prince Charles, the former Dutch queen, Beatrix, and many other dignitaries and veterans. Prince Charles is Colonel-in-Chief of the Parachute Regiment.
More than 1,500 British, Dutch, French, Belgian, German, Italian, Polish and US paratroopers landed at Ginkel Heath drop zone – which was used during the operation.
Much to the excitement of the ladies in our group, we also met the Red Devils skydivers. Full of confidence and energy, they were also full of respect for the 97-year-old veteran who jumped with them – he is in the final few frames of the video attached. https://www.bbc.co.uk/news/uk-49771180
On Sunday we attended the service at the Oosterbeek Commonwealth War Graves Commission Cemetery, where more than 1750 Allied soldiers who died at Arnhem are buried. Such services are always moving, but there is a special attribute to those at Oosterbeek. Each grave is attended by a child from a local school.
Every year since September 1945, when the battle of Arnhem was commemorated for the first time, local children have tended to the graves of the fallen. During the first memorial service on the Airborne cemetery in Oosterbeek in 1945 about 1200 school children laid flowers on the graves of the fallen soldiers during that battle.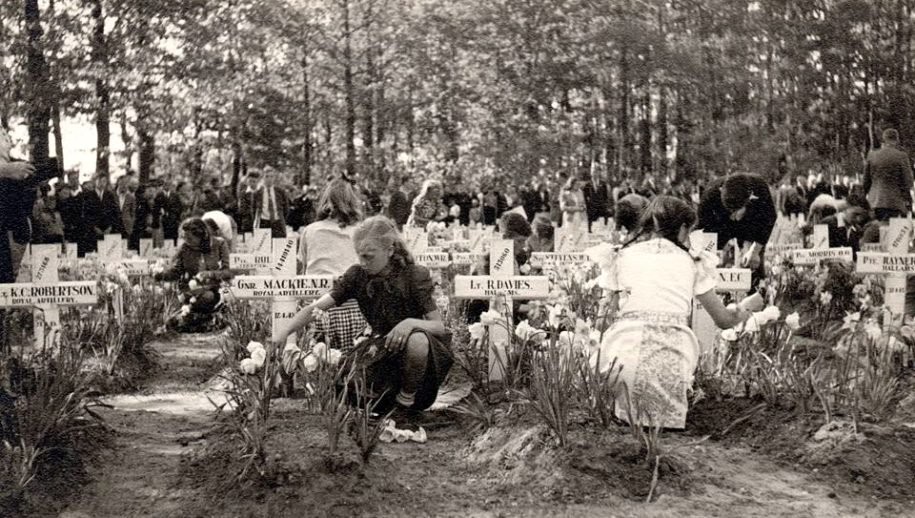 The flower laying has become a tradition and is for families and inhabitants the emotional highlight of the commemoration. This was the seventy-fifth such occasion.
Veterans of the battle of Arnhem, gave the children the honour name 'Flower Children'. This is expressed by the 'Arnhem 1944 Veterans Club' in a monument on the left side of the entrance to the cemetery.
Today the "Flower Children" represent a continuing expression of the need to protect the oppressed and to receive refugees in need.