Published: July 2021 (5 Min Read)
While the stated goal of the Capital Preservation Portfolios (CPP) is to outperform cash 'come rain or shine' over the medium term, many of our investors also keep a close weather eye on how performance keeps pace with inflation. Given how much the potential inflation threat is in the news now, we entered the second quarter of 2021 with some trepidation.
The so-called 'base effects' in the calculation of Consumer Price Indices (CPI) which we described in the 1Q2021 CPP Factsheet would we expected be most felt from the second quarter, and so we had already increased the direct inflation protection in the CPP strategy. As expected, the inflation prints for the second quarter came in much higher with the US reaching 5.4% year on year growth in consumer prices in June. UK June CPI was also higher at 2.5%. While both were above their central banks' targets of 2%, the UK lagged the US mostly due to the slower rate of opening its economy (despite its huge success in the vaccine roll out). The CPP strategy has held up well during the second quarter with the three-month performance at 2.2%, close to the 12-months UK CPI data.
Looking forward, the base effects should soon have passed through the inflation-basket calculation. Demand may also be starting to moderate for those indulgences, paid for by excess savings, which made consumers' lives a little easier during lockdown. In the US, the recent 40% fall in the price of lumber suggests that the new home and extension boom may be cooling. Supply constraints remain, however. For example, the shortage of semi-conductors has almost halted auto manufacturing around the world, leading to a sharp increase in the price of used cars. As economies reopen, demand for services is likely to accelerate more quickly, with consumers returning to restaurants faster than the waiters who serve them.
These will probably turn out to be temporary price surges which can be accommodated over time in the ebb and flow of the inflation rate around the central bankers' 2% anchor. Given that it has been a challenge to avoid deflation for the last 10 years or more, a few years trying to hit 2% from above should not cause too many problems. The bigger inflation threat may come from more fundamental changes: the transition of the baby boomers from savers to spenders as they enter retirement; or whether the pandemic has changed working habits in ways we can only guess at now.
No changes were made to the strategy in the second quarter.
To find out more about our Capital Preservation Portfolio, please click here.
Please click here for the full factsheet.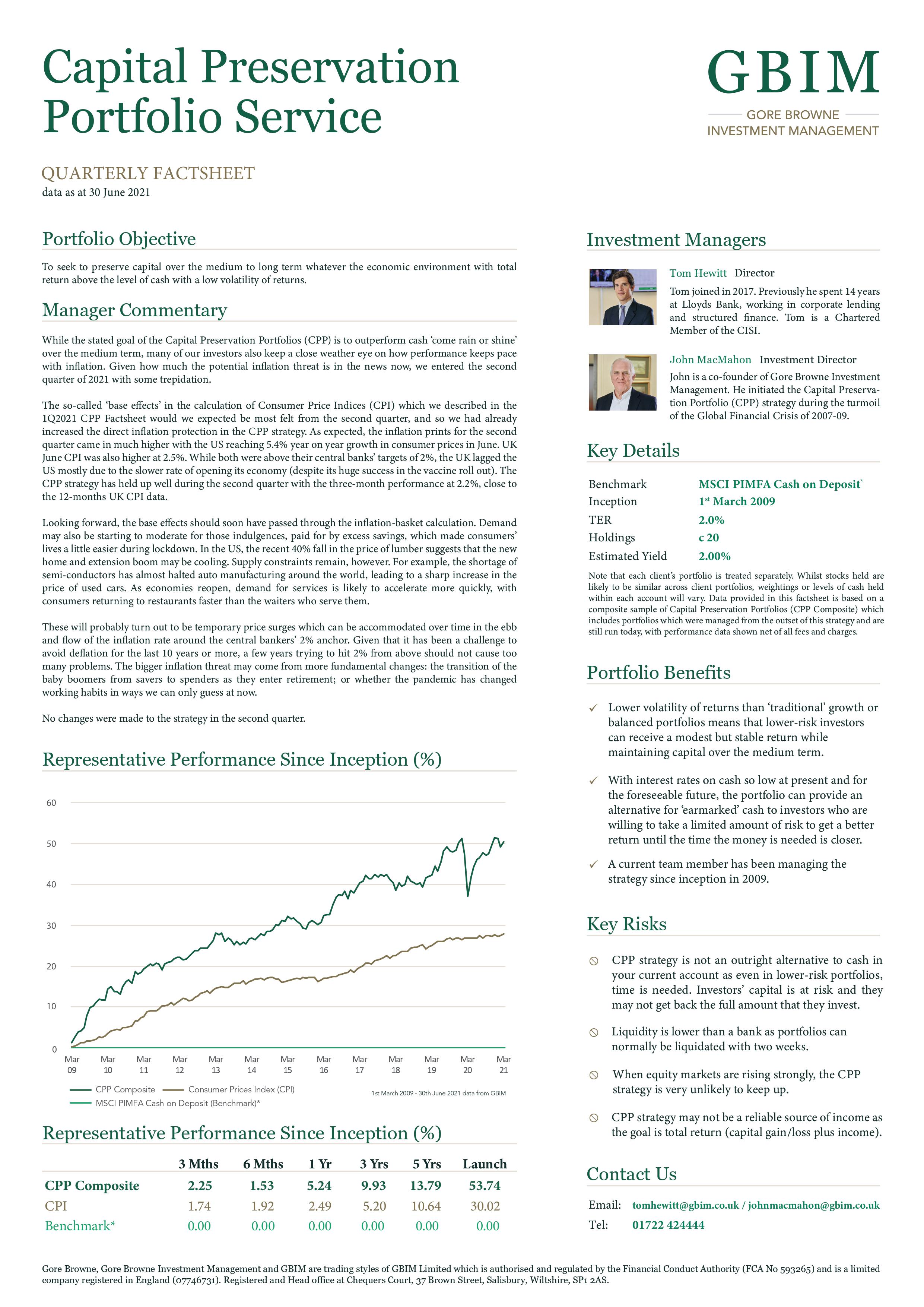 Article written by
John MacMahon