Published: July 2019 (5 Min Read)
The current exceptionally high waters in the River Mississippi and the threat of Tropical Storm Barry are causing a state of emergency in the States of Mississippi and Louisiana. There is already flooding throughout the MidWest, following an exceptionally wet winter and rainfall which persisted through the spring and into summer. The wettest period on record (Source: US National Oceanic and Atmospheric Admininstration)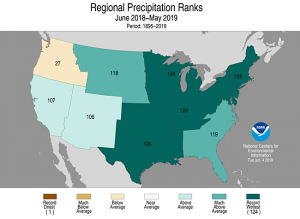 New Orleans' streets are flooded and fears abound that the levees, which protect the city from flood waters, will be breached. 
How does this affect economics and markets? In many ways: 
"The economic cost of natural disasters has an immense impact on the U.S. economy. Natural catastrophes reached $91 billion in total costs in 2018, the 4th highest total behind only the years 2017, 2005 and 2012. In 2017, economic losses reached a record $307 billion, largely due to wildfire and hurricane losses. In terms of insured losses, ten of the nation's costliest catastrophes have occurred in the past two decades." (Source: US National Association of Insurance Commissioners) 
1. Catastrophe Insurance
The shares of a major Lloyd's insurer have fallen sharply today (12th July 2019) as the company has warned that its 2018 catastrophe losses are still rising. The insurance firm provides cover for extreme events such as hurricanes and earthquakes. A series of particularly bad hurricanes and typhoons last year has left the sector facing rising costs of insurance claims and forcing them to make larger payments into reserves (Source: Shares Magazine, Hiscox)
2. Electric utilities
Many people will remember the Fukushima disaster in March 2011 in Japan. Following a major earthquake, a 15-metre tsunami disabled the power supply and cooling of three Fukushima Daiichi reactors, causing a nuclear accident. Four reactors were written off due to damage in the accident. Tokyo Electric Power's shares lost more than 80% of their value following the earthquake (Source: BBC).
3.
Agriculture
The progress of most crops in Mississippi this year falls far short of normal. This affects farmers and insurers but may also affect crop prices and so the cost of food. The persistent wet weather that swamped U.S. farmers' fields this spring is now upsetting U.S. grain markets. Corn futures contracts traded at the Chicago Board of Trade have climbed by more than 22% over the past three months on fears that poor planting conditions would cut the U.S. corn harvest to the lowest level in years. 
4.
Fishing 
Each summer,  hypoxic  (low oxygen) "dead zones" can threaten aquatic life in the Gulf of Mexico. These dead zones can be caused by  nutrient pollution; by limited mixing between water layers due to density and temperature differences; and by a drastic increase in  algae blooms — all of which deplete oxygen levels in the water. Sessile (fixed in place) organisms like corals, shellfish, and aquatic plants are unable to escape these dead zones and will often die, harming local food webs and the fishing industries that depend upon them. (Source: NASA Earth Observatory)