Published: 2nd October 2020 (1 Min Read)
Education Spending Will Grow Despite The Pandemic's Worst Effects.
I was cycling with some friends at the weekend and was surprised when one of them told me that the prep school in Sussex where she works has seen a substantial increase in numbers of pupils this term. Concerns about children being properly educated are clearly driving parents who can afford it to invest more in their children's education.
My brother, who is a teacher in the US, confirmed this trend there too. His wife teaches at a private school and they have experienced a similar surge in interest.
Clearly in the rich world the availability of educational choices empowers parents to some degree.
Sadly this is not true in many other parts.
I was shocked this morning to hear that the Save The Children Fund was reporting that the pandemic has thrown an additional 150 million children into poverty[i]. For these children poverty invariably means no education, which in turn leads to child labour, child marriage and ongoing entrapment within poverty.
This shows the different experiences at different ends of the financial spectrum. It provides some context for the importance of the UN's Sustainable Development Goal 4.[ii] Its objective is "to ensure inclusive and equitable quality education and promote lifelong learning opportunities for all".[iii]
Fortunately there has been and continues to be enormous growth in middle income families and their wealth across the world, driven by globalisation, technological change and demographics. This in turn is causing growth in demand for and the provision of educational services.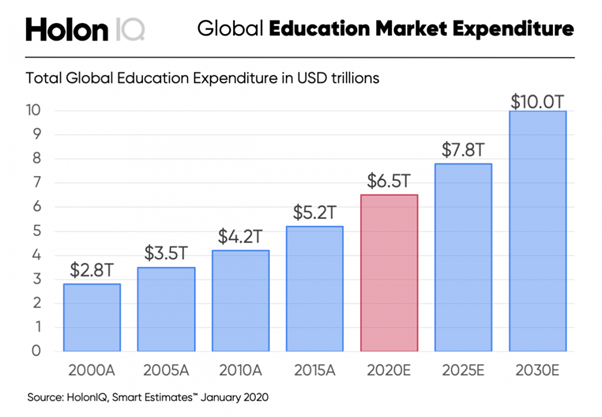 There is a wide array of opportunities for investors to support this trend. Amundi CPR Asset Management breaks them down into three pillars.[iv]
Content and tools, including educational content, professional magazines and "edtech" such as software and hardware for online learning; education and career development, including school management, lifelong learning, after school tutoring and recruitment; and daily services, such as catering, school transport, child care, school supplies and property, such as school buildings and student accommodation.
Lifelong learning is becoming ever more important every year. The digitisation of society, changing life phases, massive labour automation and more fluid job markets are changing the way we live and work. This has created a need to rethink our existing educational structures so that they are better aligned with the 21st century economy.[v]
Directly or indirectly, GBIM has invested in a number of these for our clients over the years, and the opportunities exist both in the UK and elsewhere.
Sources:
[iv] Amundi CPR Asset Management Education Impact Report 2019