Published: January 2020 (5 Min Read)
I am about to visit China, and thus am very aware of the precautionary psychology relating to the outbreak of a new virus. Such precautionary reactions tend to cause a sharp slowdown in travel and tourism but, as the SARS experience shows, activity tends to pick up again relatively quickly.
For this to happen at Chinese New Year, when the largest annual human migration occurs, is very hard luck for the Chinese, both economically and socially. Added to the doom-mongering about China becoming more isolated from the West, about the difficulties of establishing foreign businesses there, and about the slowing growth of the economy (to about 6%!), it is sad timing.
As a result, I thought it would be interesting to examine longer term trends in China, and to check the statistics on investment by foreigners into China.
Data published by China's, admittedly biased, Ministry of Commerce, shows that foreign direct investment (FDI) in the country during the first ten months of 2019 hit USD110.8bn, growing 2.9% YoY. [i]
More recently the South China Morning Post has said that for the whole of 2019 FDI into China reached $137 billion, and China Briefing has the helpful cumulative data in renminbi to November 2019 below. [ii]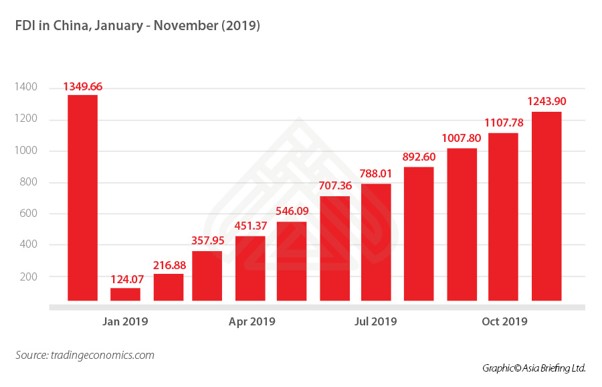 Such investments in property, plant and equipment are long term in nature, but it is also interesting to see what is happening in the Chinese share and bond markets, which can be shorter term holdings.
Data from China's central bank for the end of the third quarter of 2019 showed that foreign investors held RMB1.77tr[iii] and RMB2.13tr[iv] worth of Chinese stocks and bonds, respectively, as of 3Q19. Both figures represent new highs.
This is substantially the result of the Chinese authorities opening up their markets to foreigners, and the greater inclusion of shares in particular in recognised global stock market indices. Foreign financial institutions have also been opening wholly owned subsidiaries there during the last year.
It's not all bad!
Sources: