Throughout the year we run paid internships for university students, whether they are still studying, or have recently graduated. One of our recent interns, Octavia Cooper, gives an insight into her experience during her internship.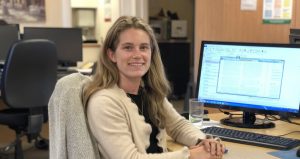 I recently joined Gore Browne as an intern having graduated from Bristol University after three years reading History. Much like any graduate, the prospect of finding what I was interested in and choosing a career path to take is both exciting and slightly terrifying. However, having learnt Business Studies at school and spending time in Insurance last summer, I have become intrigued by finance and the investment world. I was eager to find out how Investment Managers made decisions, adapted to changing market conditions and the process involved in weighing up risk and reward.
I have been fortunate enough to be exposed to all these areas and much more in the past month at Gore Browne. I have attended multiple meetings with past and prospective fund managers who carefully explain their past progress and strategy going forward, helping the managers here to continue to work with them and make informed decisions. I have particularly enjoyed gaining insight into the variety of different investments, especially in the AIM market which offers considerable opportunities in diverse geographical locations and industry sectors. It has been extremely insightful for me to be part of the detailed research process in order to understand these companies as fully as possible and ensure the level of risk involved is always in line with the needs of the client.
Given the recent volatile political climate, it has also been intriguing to understand how Investment Managers consistently update and adapt portfolios to mitigate risk. During the internal meetings I have learnt so much from the discussions over Brexit, the US economic growth, Trade Wars as well as the ever changing strength in major currencies. It is through the careful research of each investment and its potential for growth, considering the wider political-economic circumstances, that allows investment managers to make the best informed decision for their clients. In the past month at Gore Browne, I have been fortunate enough to have this unique insight into the everyday life of this decision making process. It is thanks to my time here that I now have a far better understanding of the investment world and the career path I would like to take.
Octavia Cooper
To find out more about our internship opportunities, please get in touch.

Article written by
Tom Hewitt