Published: 24th August 2020 (5 Min Read)
We have commented previously on Saudi Aramco and Alibaba having been the largest launches on stock markets. Last week it was announced that Ant Group (Ant Financial) may seek to come to market in Hong Kong and Shanghai in September or October. [i] This graphic from Statista shows the size of the issue being touted, and how it compares with the other largest IPOs.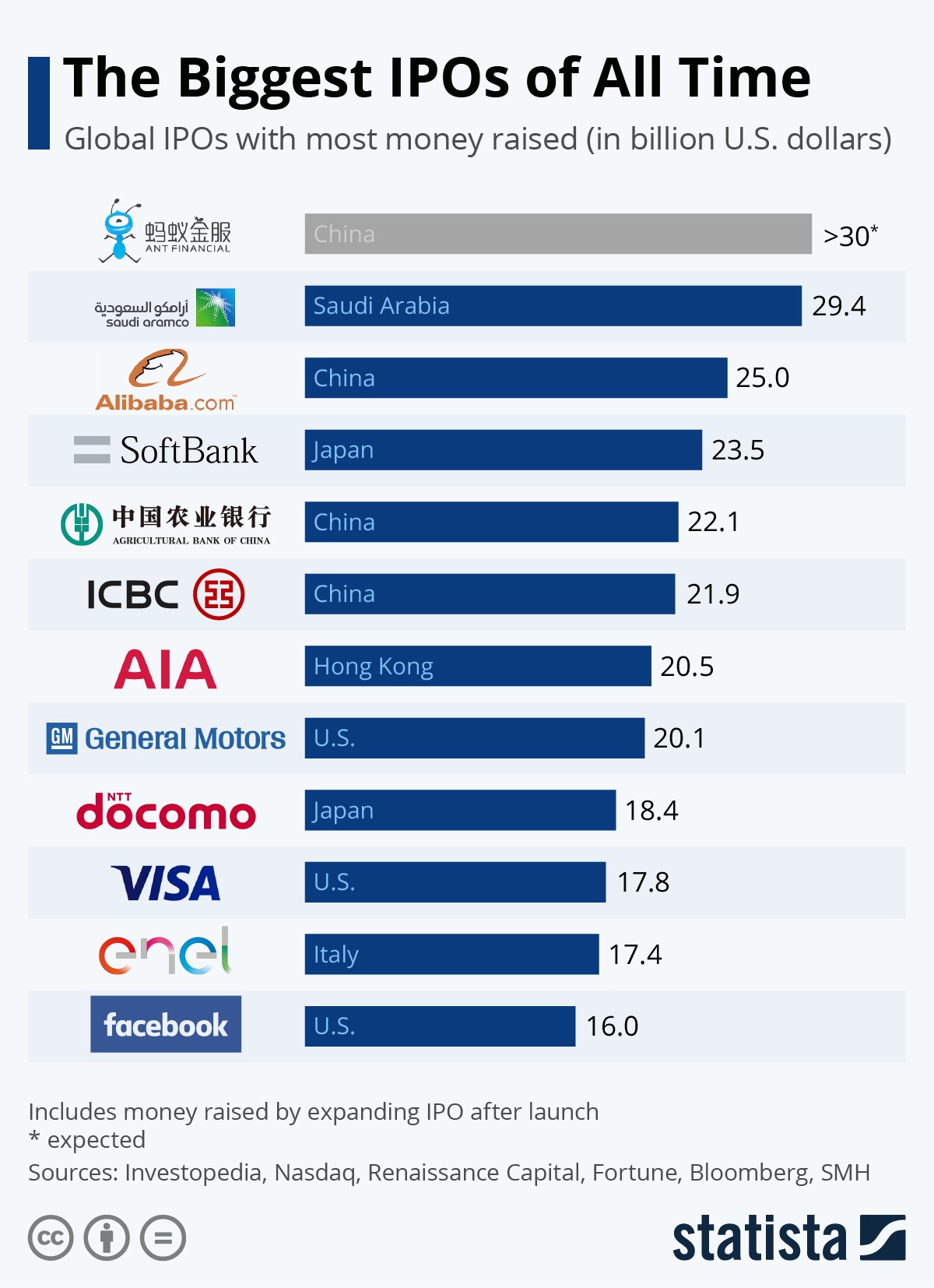 Alibaba, ranked number three, owns about 33% of Ant Group.
Ant, China's largest payments platform, which made about $1.3 billion in profit in the March quarter, has developed from a fintech platform to an online mall for everything from loans and travel services to food delivery. With data from almost a billion users of its Alipay app, Ant is pushing broadly into financial services, delivering technology such as robo investing and lending platforms as well as building out its advisory business.[ii]
It is suggested that Ant will use part of the proceeds to establish a new consumer finance operation in partnership with Nanyang Commercial Bank and Alibaba-backed intelligent transport services firm China TransInfo Technology.[iii]
Previously Jack Ma, the founder, had hoped to invest substantially in the US market, but trade and regulatory tensions have put these aspirations on hold. It seems that in China life can go on despite American hostility.
Assuming this proceeds it would also be a boost to the Hong Kong stock exchange, which is already benefiting from Chinese companies listing there, despite the Security Law and other apparent hurdles.
[i] https://www.business-standard.com/article/international/jack-ma-s-ant-financial-plans-dual-ipo-targets-225-bn-valuation-report-120082100247_1.html
[ii] https://www.reuters.com/article/us-antgroup-finance/chinas-ant-group-plans-consumer-finance-firm-in-growth-push-ahead-of-ipo-idUSKCN25E0DR
[iii] https://www.bloomberg.com/news/articles/2020-08-21/jack-ma-s-ant-is-said-to-target-225-billion-valuation-in-ipo