Date Published: 11th July 2022 (5 Min Read)
I am going to quote directly from Torsten Bell of the Resolution Foundation.[i]
"The challenge facing Britain in the 2020s is that we are combining the low growth of the last 15 years and the high inequality left to us by the 1980s. The combination of the two is a catastrophe for low- and middle-income households.
"Despite people saying GDP doesn't feed through to the living standards of ordinary workers, you can see the collapse in growth lies behind our flatlining living standards – the typical incomes of the poorest fifth of the population were no higher on the eve of the pandemic than they were back in 2004-05. And despite politicians of all parties saying it's not healthy that we have such big gaps between people and places, you can also see we haven't been closing them. Time to get serious about getting growth up and inequality down."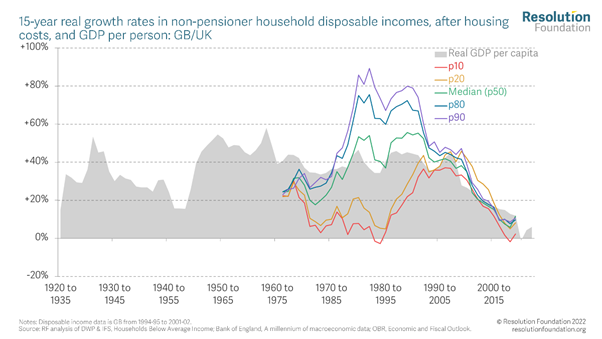 This is the fundamental cause of the cost of living crisis.
We need a serious level of investment in the supply-side of our economy and into enhancing the efficiency of our businesses. We need a productivity revolution. Then people can receive earnings increases which exceed inflation.
Unfortunately, business investment, especially FDI, has faltered since the Brexit vote, and Brexit itself has increased the marginal costs of trade.[ii]
It doesn't matter what you voted on this divisive subject these are the stark facts.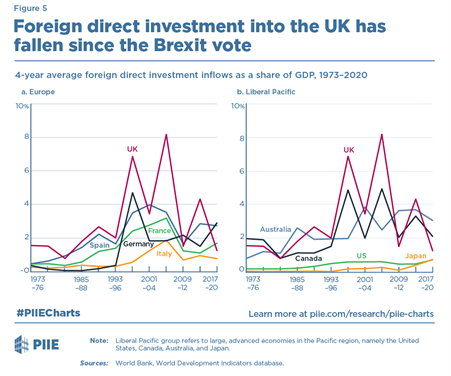 Without policies to make rapid improvements we shall fall prey to populism. The more deprived the electorate feels, the longer the government fails to deliver on its promises (life after the EU or "Levelling Up", investment in education or the NHS) and the longer that politicians fail to admit that we have a budgetary problem, the more likely it becomes that the electorate demands inflationary policy choices.
Broad tax cuts are not what we need. We need to create an economy in which businesses, domestic[iii] or foreign, wish to invest.
A lot depends upon the Tory in-fighting: demagogy or common sense?
[i] https://www.resolutionfoundation.org/comment/how-to-tempt-tory-votes-and-budding-businesses/
[ii] https://www.piie.com/research/piie-charts/uk-and-global-economy-after-brexit
[iii] https://www.ons.gov.uk/economy/grossdomesticproductgdp/bulletins/businessinvestment/januarytomarch2022provisionalresults