Published: 12th July 2022 (1 Min Read)
The portfolio declined by 6.44% over the quarter compared to the benchmark which decreased by 15.80%. It was another difficult quarter due to inflationary pressures, rising interest rates, and continued supply chain issues, in addition to the ongoing war in Ukraine. It was, however, pleasing to see the outperformance against the benchmark.
Craneware, which provides automated financial solutions for US healthcare organisations, has not been a strong performer in recent years, and we felt that we were always waiting for its moment. We started reducing our position in December and sold the remainder in April.
We used the remaining takeover cash from Sumo Group to top up our holdings in MJ Hudson, Fevertree, and Johnson Service Group.
MJ Hudson (MJH) is an end-to-end specialist service provider to the asset management industry. They provide an "ESG service" as part of their Data & Analytics solutions, a rapidly growing division with high margins and recurring revenues. In June, they announced a strategic partnership with Cork Gully, a leading UK-based restructuring practice, which will provide MHJ and its clients access to a growing market for fund restructuring. We believe that MJH is operating in a structurally growing market and we like that the founder, Matthew Hudson (CEO), is still involved in driving the business forward.
In the next quarter, we have takeover cash coming through from Ideagen. There are excellent structural growth companies on our watchlist; many of these companies share prices have fallen in the recent market sell-off providing an opportunity to re-deploy these funds in the coming weeks at attractive levels.
To download the latest quarterly factsheet, please click here.
To find out more about our AIM Portfolio Service, please click here.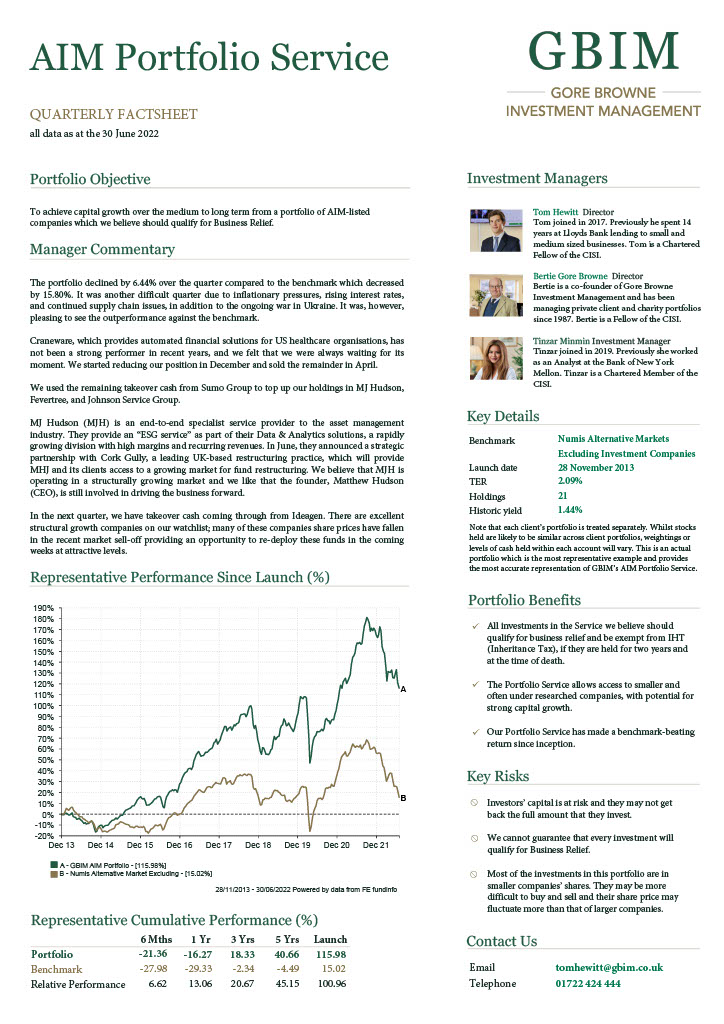 Risk warning: You should remember that the value of investments, whether pooled or direct equities, and the income derived therefrom may fall as well as rise and you may not get back the amount that you invest. In the event that you require a level of income higher than that generated by your portfolio, you should be aware this will dilute the capital value of your portfolio. Past performance is not a guide to the future. If you are in any doubt of the suitability of an investment for your particular circumstances, you should contact an investment manager for tailored advice.

Article written by
Tinzar Minmin