Published: 25th January 2023 (1 Min Read)
The portfolio declined by 0.6% over the quarter compared to the benchmark which had a positive return of 3.7%. The UK domestic market has been a tough place to be in 2022, but we believe the market has reached the point of peak uncertainty and we are gradually getting a better feel for the new year ahead. As you will see from the table below the long-term performance remains well ahead of the benchmark.
This quarter was weak due to ongoing lockdowns in China which caused further disruptions to supply chains and affected companies such as Strix (kettle technology), Alliance Pharma (Kelo-Cote "scar product"), and Inspiration Health (ventilators for infants). However, supply chain pressures should be easing as China moves away from the zero-covid policy and re-opens its borders. Regrettably one of our companies, MJ Hudson (MJH), took the decision to ask for a temporary suspension of its shares due to delays in the submission of its audited FY22 accounts. We have since met with the CEO Mathew Hudson (who has a large shareholding in the business), and he confirmed that it was a revenue recognition issue rather than a cashflow issue. We expect a further update at the end of January/early February.
Cerillion, Zoo Digital, Lok'nStore, and Judges Scientific have been strong performers in our portfolio, and all produced results in line with or ahead of expectations. Zoo Digital, for example, is a provider of end-to-end cloud-based localisation and digital media services to the global entertainment industry. In 2021, $220bn was invested in content creation and we expect the content market to continue growing. For content creators (movies/tv series), language-related expenditure is a small portion of their overall cost base and insignificant relative to the potential returns of a more global audience for their content. Zoo Digital manages its capacity carefully and is not willing to commit if it can't deliver. Furthermore, the company is protected from consumer recession and operates in a defensive B2B market.
In summary, we feel that there are good quality companies with strong earnings that are now even cheaper, and we look to take advantage of under-priced opportunities whilst acknowledging it has been an uncomfortable year for investors.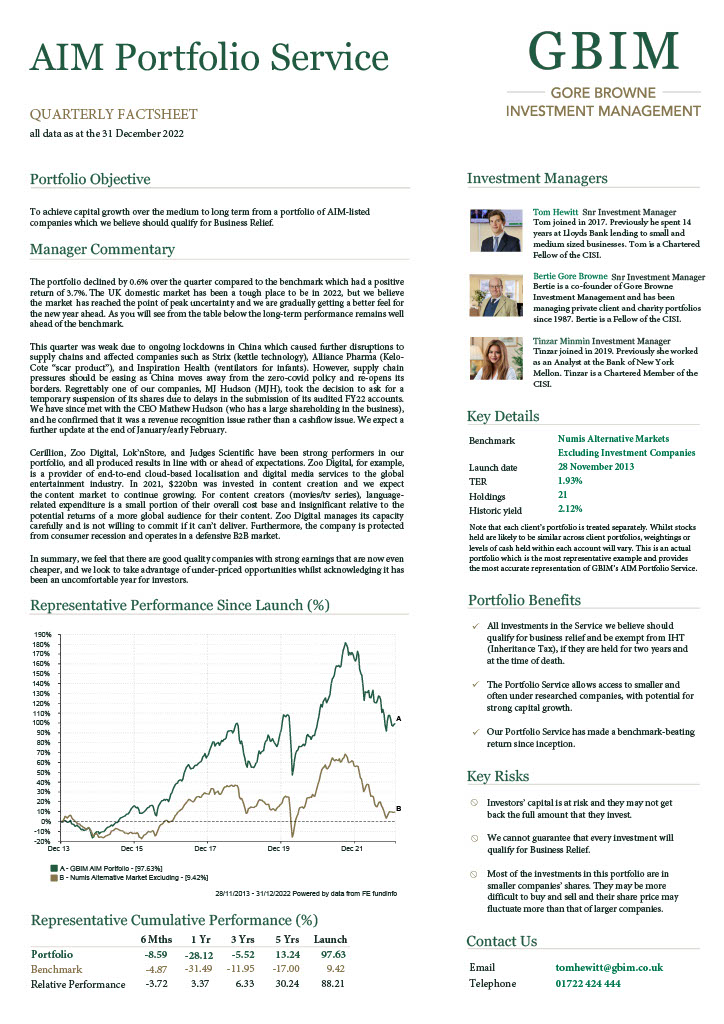 To download the latest quarterly factsheet, please click here.
To find out more about our AIM Portfolio Service, please click here.
Risk warning: You should remember that the value of investments, whether pooled or direct equities, and the income derived therefrom may fall as well as rise and you may not get back the amount that you invest. In the event that you require a level of income higher than that generated by your portfolio, you should be aware this will dilute the capital value of your portfolio. Past performance is not a guide to the future. If you are in any doubt of the suitability of an investment for your particular circumstances, you should contact an investment manager for tailored advice.

Article written by
Tinzar Minmin